Adopt-A-Family Holiday Giving Program
Register and select the youth/family you wish to provide gifts for online. We are uploading profiles all the time. Please check back frequently as new family profiles are being approved every hour.
Go to our ROONGA page to make your pledge and selections.
---
Contact us at (408) 850-6143 or adoptafamily@billwilsoncenter.org
---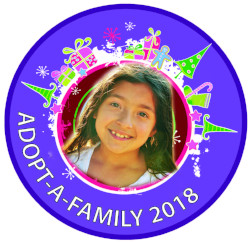 Thank you in advance for making this year's holiday season a joyful one for children in the Santa Clara County foster care system by participating in our annual Adopt-A-Family Holiday Giving Program.
Our program links community donors with children who would otherwise receive few, if any gifts for the holidays. We work directly with the Santa Clara County Department of Family and Children's Services. Social workers select the neediest children for this program and create profiles for each child providing age, gender, sizes for clothing and shoes, interests, needs and wants. These children have been removed from their families due to abuse or neglect; our goal is to simply provide a bit of extra joy during the holiday season.
More than 1,600 youth will receive individualized presents for them this year. Our program is open to anyone who is interested in donating. Past donors include law firms, high tech companies, elementary and middle school classes, service organizations and families in the community.
* Your donation is tax deductible. Our Tax ID number is 94-2221849.
If you are interested in more information about this year's Adopt-A-Family program, please contact us at (408) 850-6138 or email hfuruta@billwilsoncenter.org.
---
Also, check out our Amazon Wish List here.
---